My Favorite Podcasts | December 2019
I absolutely love listening podcasts! I binge listen while working and during downtime. I figured I'd share what podcasts I'm currently obsessed with listening to!

1. Jenna & Julien Podcast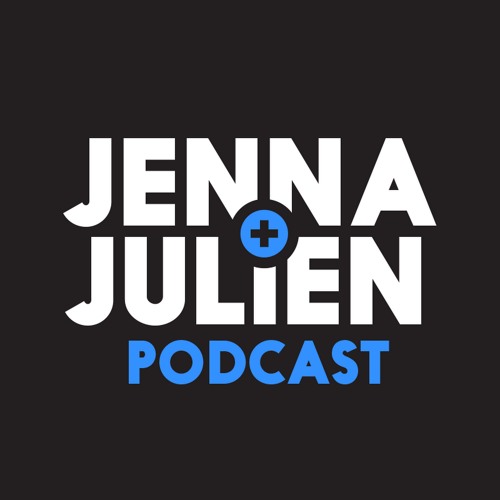 (Photo via Google Images)
If you don't know who Jenna "Marbles" Mourey is, not going to lie. You may or may not be living under a rock. She's the number one female YouTuber.. like ever. I may be wrong on that statistic but she's an internet legend. Her longterm boyfriend, Julien, co-hosts and the two are hilarious. They find interesting and entertaining topics to talk about each week. What I like best is they sprinkle in their advice on how to be successful online - whether it's YouTube, podcasting, or Twitch streaming. I end up giggling to myself every episode. They are absolutely hilarious. The mix of Virgo and Aries energy works so well, and I listen as soon as they upload new episodes.

2. Daniel & Jorge Explain The Universe
(Photo via Google Images)
Arguably my favorite podcast is Daniel & Jorge Explain The Universe. I have learned SO MUCH from this podcast. The show is hosted by Daniel, a particle physicist, and Jorge, a cartoonist. Daniel has a voice like silk. I could, and have listened to him talk for hours on end. And paired with Jorge's humor and engaging questions, the show is everything I could ever want out of a science podcast. What's great is that they will often take the time to answer listener questions. Both on air or they will respond via email/direct message. I have zero background in science, but the duo make learning all the odd things that go on in the universe easy to grasp. Daniel and Jorge are excellent at breaking down science ideas and concepts for listener consumption. Anyone can listen to this podcast and know what's going on. And if you don't, they lay it out perfectly for you to go into a Google Deep Dive to learn more. Which I've often done. I rave about this podcast on pretty much every social media platform I have. Daniel & Jorge is hands down my favorite podcast ever created.

3. The End Of The World with Josh Clark
(Photo via Google Images)
I discovered this podcast from ads during Daniel & Jorge Explain The Universe. And I got very excited on an episode where Daniel gave his insight on a topic. Josh Clark thoughtfully explains human life's existential crisis' we are facing and will likely face in the future. He also lays out how life has grown into what we know it as today. And teaches us ways to take action against certain existential crisis' that are coming sooner, rather than later. Heads up that this podcast is a limited series, not a podcast that recurs each week. 10 episodes that I finished within 2 days. Josh frequently pulls in voices from highly regarded scientists and it is absolutely compelling to listen to. Similar to Daniel & Jorge, Josh is excellent at breaking down science concepts and ideas so it's easy to understand. I don't want to give away any spoilers, but what I took away from this podcast is our future doesn't look as bleak as the title of this podcast might sound.

4. Science Rules! with Bill Nye
(Photo via Google Images)
BILL NYE THE SCIENCE GUY!! Hosts an animated and educational podcast alongside his co-host and longtime friend Corey S. Powell. I've just started listening this week after being all caught up on the podcasts I listed above. I am so glad I started! Bill and Corey bring on a 3rd guest, typically a scientist or someone well versed in the science field. Bill, Corey and their guest are always extremely passionate about the topic they discuss each episode. It brings me back to science class watching Bill's TV show. It's fun to listen to them geek out about the topics they discuss, and it's hard not to geek out along with them. I'm excited that I have many more episodes to catch up on, and I'm sure I'll be on a Science Rules! binge for at least the next few weeks.

I have more on my "Listen To" list, I'll be sure to update you with what I'm loving in the future. What podcasts do you love? Let me know and I'll be sure to take a listen!